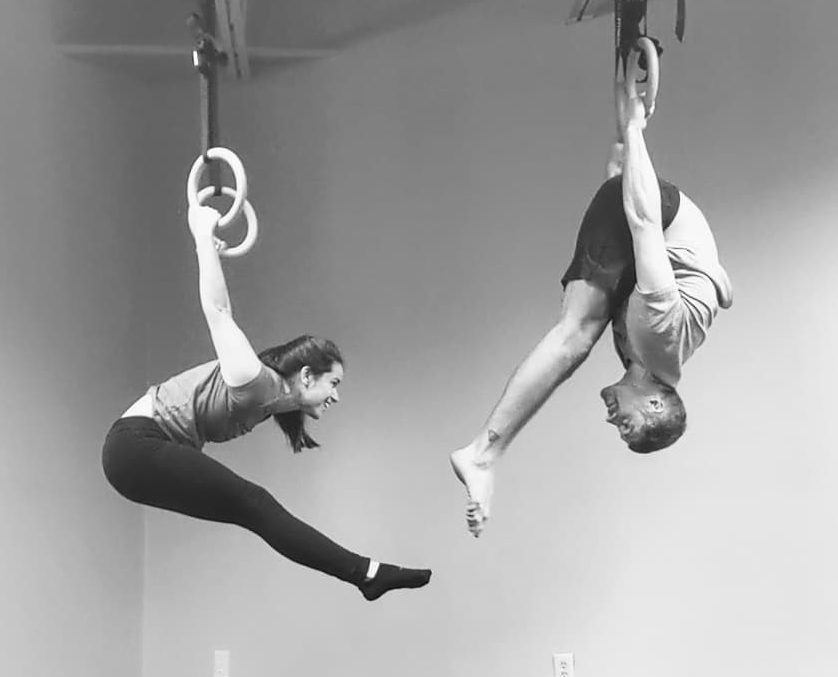 First up: if you are unfamiliar with our methods be sure to check out our Introduction to C.hill Movement for the basics. Our blog also has a lot of great posts further exploring our ideas and philosophy if you're interested. You can also follow our gym, Coach Sarah, and Coach Greg on Instagram to get to know our methods even better!
In-person Fitness Classes
After six long months of officially being closed due to COVID-19, North Carolina allowed gyms to reopen at 30% capacity as of Friday, 4-Sep-2020.
While the pandemic has been very challenging for our operations and finances, we are *still* committed first and foremost to the safety of our members and the recommendations of the scientific and medical communities. This means keeping in-person classes small, wearing masks, minimizing the amount of equipment and space needed per person, and cleaning all used equipment thoroughly immediately after the workout.
Currently we only have one in-person Movement & Strength class on Tuesdays at 7:30 AM.
We hope to add additional classes in the near future, but that will be entirely dependent on improved COVID-19 numbers in the state and immediate area.
Online Classes
We will continue to offer online classes for those who err on the side of caution. So don't worry about those disappearing anytime soon!
These include:
Online Mobility class on Mondays at 8:30 AM and Friday at noon.
Online Movement & Strength classes on Thursday and Saturday at 8:30 AM.
Full schedule can be viewed here. Online classes are all conducted through Zoom. Once you've signed up, a link to the Zoom meeting will be automatically sent to you 1 hour before class.
All levels welcome! Movements can be scaled up or down to make them appropriate for the level you're at.
No equipment required. Bodyweight training is our speciality.
First class is free! To sign up for a free class, click here and scroll down to the section labeled "Try a Free Class." Then just pick the day and class you'd like to try! And be sure to sign the waiver before attending.
To sign up for online classes after that, first purchase a package. Be sure to download the Zen Planner app (for iPhone and Android) to register for classes, or via our Member Connect schedule page.
Personal Training
Our one-on-one training follows the same concepts as our group classes, but with the benefit of personalization. We will delve into any limitations, compensations, or other issues and address them via the appropriate training path.
Personal training can be online via Zoom or in-person (depending on state requirements for social distancing and general safety).
If you are interested in personal training, please contact Coach Sarah or Coach Greg directly to discuss schedule and rates. An average in-person session cost is $90-95 but varies depending on how often you train per week or pay in advance.
NOTE: All new clients will start with a 3-session package for $300. This will include a full assessment of your movement and limitations and will form the foundation for your future training. We will also give you drills to work on at home to help address your individual needs.
Personal training via Zoom with Coach Greg is currently a flat $80/hour or $45 for a half hour.
Distance Coaching / Program Design
We are also offering options for distance coaching via the app TrueCoach. This app allows us to provide personalized workouts, videos, real-time messaging, and more.
If you are a NEW client interested in this approach, we'll typically do four zoom sessions (see costs above in personal training) to assess your movement and help you understand the basics of our approach. After that, we will design a 4-5 week plan for you to follow on your own for around $180. Again, costs vary depending on consistency of attendance and complexity of your individual plan.
If this sounds like something you might be interested in, contact us!